COURSES
NON FORMAL TRAINING
WELCOME TO PUSHPARAM

Pushparam Private ITI is a christian institution at Iritty, Kannur District, under the management at St. Thomas Province of Little Flower Congregation (CST Fathers) which is a Registered Trust( Trust No. 279/iv 2000). Little Flower congregation is a religious institution of pontifical status. Under the patronage of St. Therese of Lisiux, it was founded by Late.Rev.Fr.Basilius Panat, in 1931 at Mookannur in Kerala to work for the total development of the rural people. Our charism is "Be Little, serve the Little". Be little signifies imbibing the attitude of symbolizes the poor, the marginalized and the disadvantaged sections in the society. Our mission is to be little and render service to the little enabling our our solidarity with them to establish God's reign. Since 1967 the congregation is engaged in Technical education in different parts of the country. Realizing the need for imparting the technical education to the youth and also with a view to uplift the rural areas of Kerala we started Pushparam ITI in 1997 at Payyancheri Mukku, Iritty. This institute is affiliated to NCVT Govt. of India. Since it imparts sound technical education among the youth without any discrimination of caste, creed, or religion. It is a well-known Technical Training Institute at the heart of Iritty with committed faculty, high quality infrastructure and teaching aids. Our academic programme is arranged in such a way of creating skilled technicians who can contribute much to the highly dynamic and competitive world of technology.



ELECTRONIC MECHANIC �NCVT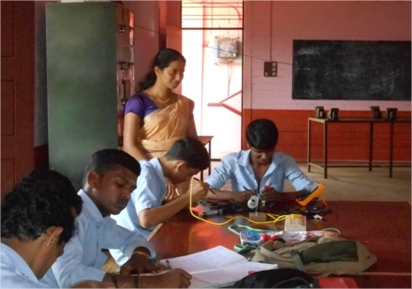 Industrial scenario is under rapid change and the technology advancing fast. In view of that ministry of labour, Govt of India , introduced this trade of this course. This course focus on advance electronic communication system, analog and digital electronics and repair and maintenance of house hold appliances. In addition to electronic mechanic course basic computer course is also offered to the trainees. This training enables trainees to be good technicians in service and maintenance of T.V, Radio, Computer, DVD, Telephones, communication equipments etc.
Duration �2year
Eligibility �S.S.L.C PASS
ELECTRICIAN �NCVT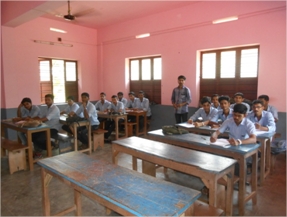 Electricity is the basic necessity of all industrial progress and development. This course imparts practical training with sound theory on all electrical machineries. Also training include industrial installation, wiring, power distribution, motor winding, repair and maintenance of batteries etc. Plenty of job opportunities are awaiting the course completed at different companies in India and Abroad.
COMPUTER COURSES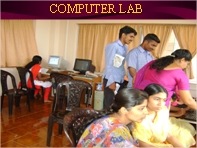 The world is undergoing changes at ever-fastest pace today. The introduction of computers has revolutionized the field of communication beyond words. Computer literacy has become the hall-mark of competency of an educated person today. To keep peace with the world, one requires a proper knowledge on computer, its working and scope. A practical courses on the system should be well-supplemented with adequate literature. The institute provides certificate courses on MS-Office, Fundamentals, DTP, Tally, Graphic Designing, Internet and E-mail etc.
TAILORING AND EM BROIDERY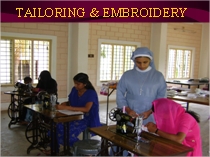 This courses envisages the empowerment of women though skilled labor. There are the necessity of Tailors and embroidery workers in shops and companies everywhere. Moreover the women can generate an income through self employment and this improves the quality of livihood. Pushparam Tailoring Centre with all the facilities and experienced staff imparts sound training